Rent a Mercedes with a driver in Kiev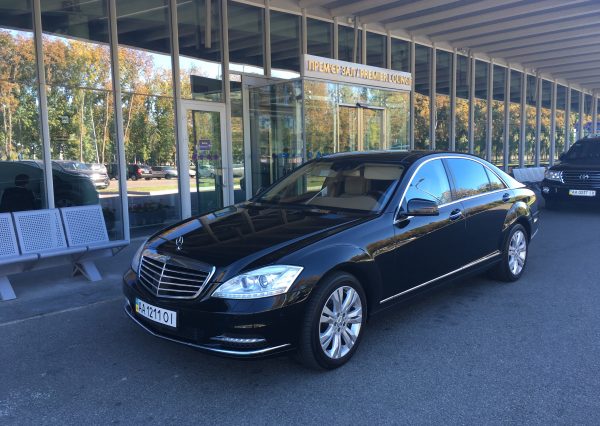 The Mercedes brand embodies the best qualities of the German automotive industry; reliability, safety and comfort of cars are proverbial, and an elegant appearance inspires respect from the first minute. If you have not yet acquired a status car, the Aurum Auto company will take care of your image: on request, rent a Mercedes with a driver Kiev, the dream car will arrive on time and bring you to success!
For what purposes is Mercedes-Benz car rental suitable
Executive class cars are traditionally accompanied by business meetings, conferences, delegations and other official events. From the point of view of partners and investors, the car brand serves as a marker of the company's income and prospects, therefore, such a service as Mercedes Kiev rental is now in trend.
Cars for corporate needs are ordered for a day with hourly payment; if necessary, the rental period is extended to a week or more with daily payment, for long-term visits the car is rented for a month or more. Renting a Mercedes car with a driver will ensure comfortable movement around the city strictly on schedule, without traffic jams and congestion. A beautiful respectable car may also be needed by individuals: Mercedes Kiev rental for a day is often ordered for organizing wedding motorcades, servicing anniversaries, corporate parties, photo shoots and family holidays.
Mercedes car rental from Aurum Auto specializes in servicing business events: the excellent driving characteristics of cars and the quality of interior trim meet all the requirements of business etiquette. By renting a Mercedes-Benz, you will get to your destination quickly and comfortably, and at the same time increase your status in the eyes of partners. The Mercedes Benz line on the Aurum Auto website presents cars of different types that satisfy a wide range of requests:
comfortable S- and E-class sedans - for moving around the city;
powerful and roomy G- and R-class SUVs for comfortable country trips;
V-class minivans and Sprinter minibuses for group transportation.
Types of Mercedes rental with driver
Hourly rent
Car rental for an hour allows you to flexibly plan your time
Daily rent
If you have a lot of trips around the city, renting a car for a day will be more profitable than taxi services.
Weekly rent
Car rental for a week will allow you to move around the city in comfortable cars at a bargain price
Monthly rent
Car rental for a month is beneficial for both individuals and businesses, as it allows you to optimize transportation costs and save time.
Long-term lease
This type of rental is suitable for those who want to move around the city for a long time with maximum comfort
Individual rental conditions
Allows you to rent a car to accompany delegations, meet at the airport, for a wedding.
Why Mercedes cars, and not other brands?
It is not always advisable to keep an executive class car on the balance sheet; it is more reasonable to rent a Mercedes with a driver as needed. Affordable luxury car rental in the company "Aurum Auto" allows you to create the image of a thriving enterprise at the lowest cost, and the brand's credibility is based on real feelings, not on the fantasies of marketers. Mercedes was originally conceived as a "passenger car", so they differ favorably from similar models in handling and driving qualities:
easy smooth running without jerks;
perfect balance of steering wheel, brakes and clutch;
improved shock absorption due to the special design of the front suspension;
fast and convenient maneuvering;
full control of the car at any speed.
The most popular Mercedes rental cars with a driver
In the Mercedes-Benz line, classic sedans E220 and E300 are in the greatest demand – universal city cars of business class, reliable, elegant and easy to operate. S-class car rental is also in high demand – all-wheel drive models S500 W221 and S600 W223 are not afraid of difficult tracks with coating defects and can travel out of town. Mercedes GLS series hybrids are especially popular among SUVs, combining the pressure of a "Hyundai" with the luxury and convenience of an elite coupe; today these good-natured giants are recognized as the safest in the world.
Mercedes E-class rental in Kiev
Business people are never in a hurry - renting a Mercedes with a driver allows you to quickly move around the city without losing dignity. For comfortable movement in Kiev, it is convenient to rent a Mercedes-Benz E-class - a dynamic business class sedan has many advantages:
spacious air-conditioned lounge with leather armchairs;
two wide displays – one for devices, the other for media;
fast acceleration and almost imperceptible gear shifting;
excellent shock absorption and sound insulation;
Run-Flat tires, puncture-resistant.
Mercedes G-class rental in Kiev
If your plans include going out of town, you will need to rent a car with increased cross-country traffic: be prepared for broken roads. Ordering a Mercedes with a driver allows you to calmly enjoy the views from the window: in experienced hands, a powerful G-class SUV will overcome any obstacle without causing passengers anxiety:
multi-contour massage seats allow you not to experience discomfort during a long trip;
lateral support helps to maintain balance on sharp turns;
independent front suspension with adaptive shock absorption adjustment will save you from shaking and noise;
The Command Online smart system keeps an eye on the traffic situation along the way.
Rent a Mercedes GLS-class in Kiev
It is worth renting a seven-seat GLS crossover to enjoy going out into nature: luxury four-wheel drive cars consistently occupy the first places in the ratings of auto experts. Thanks to such a service as Mercedes rental, Kiev appreciated advanced engineering solutions for driving in cross-country conditions:
reinforced frame dampens any terrain irregularities;
one hundred percent course stability – the car does not sway during active maneuvering;
multi-zone climate control and multimedia system with Internet access.
Mercedes minivan rental
V-class are high-comfort minivans for 6, 7 or 8 passenger seats; for large groups of up to 20 people, Mercedes Sprinter minibuses are suitable for rent. Mercedes minivan for rent in Kiev is most often ordered by tour operators and event agencies that serve events with a large number of guests - from corporate parties and weddings to summits and diplomatic receptions. V-class cars are ideally adapted for long trips: the salons are equipped with folding tables, a refrigerator and sleeping places, and the Burmester volume speaker system will facilitate the difficult work of the guide and animator.
Conditions for renting a Mercedes-Benz with a driver
It is not necessary to come to our office to rent a car in Kiev; car rental applications are accepted online from anywhere in the world. Our website is available on request Mercedes rental with driver Kiev: go to the brand section on the "Fleet" page, choose a model to your liking and fill out the order form by attaching scans of civil and foreign passports. Soon the manager on duty will call you back to coordinate the place and time of delivery of the car; if you have any questions and special requests, our staff will be happy to advise you.
After checking the personal data, a message will be sent to the specified phone number with information about the car, rent and driver's contacts. Mercedes Benz rental applications are processed within 15 minutes; the rental agreement is issued to the client on the first day of the lease.
The price for renting cars with a driver
The Aurum Auto rental service is one of the most affordable in Kiev; for such a service as Mercedes rental, the price is more loyal than can be assumed by the status of the car. We advise corporate clients to arrange car rental for a legal entity in order to add the rental cost to production costs, and we undertake the preparation of documents for accounting!
Mercedes car rental - advantages of renting in Kiev
During a business trip to the capital, it is better to order a Mercedes with driver services than to get behind the wheel yourself, especially if you are poorly oriented in the capital. By contacting our rental, you have the right to count on qualified service and comprehensive assistance of the company; the advantages of our service are felt from the first minute:
drivers have a long experience of accident-free driving;
cars are delivered without delay, in a clean and serviceable condition;
our employees speak English, look presentable and adhere to the norms of etiquette;
drivers accurately calculate routes; even during rush hours you will not be late anywhere;
special equipment and additional services are provided upon request – security, escort, tour service;
the rental price includes fuel and car service costs; at the same time, the driver is responsible for the car, not the tenant.
Ordering a car with a driver allows you to effectively use your working time and fully focus on business issues. Free yourself from unnecessary worries and have fun visiting the capital, opening Kiev together with the company "Aurum Auto"!